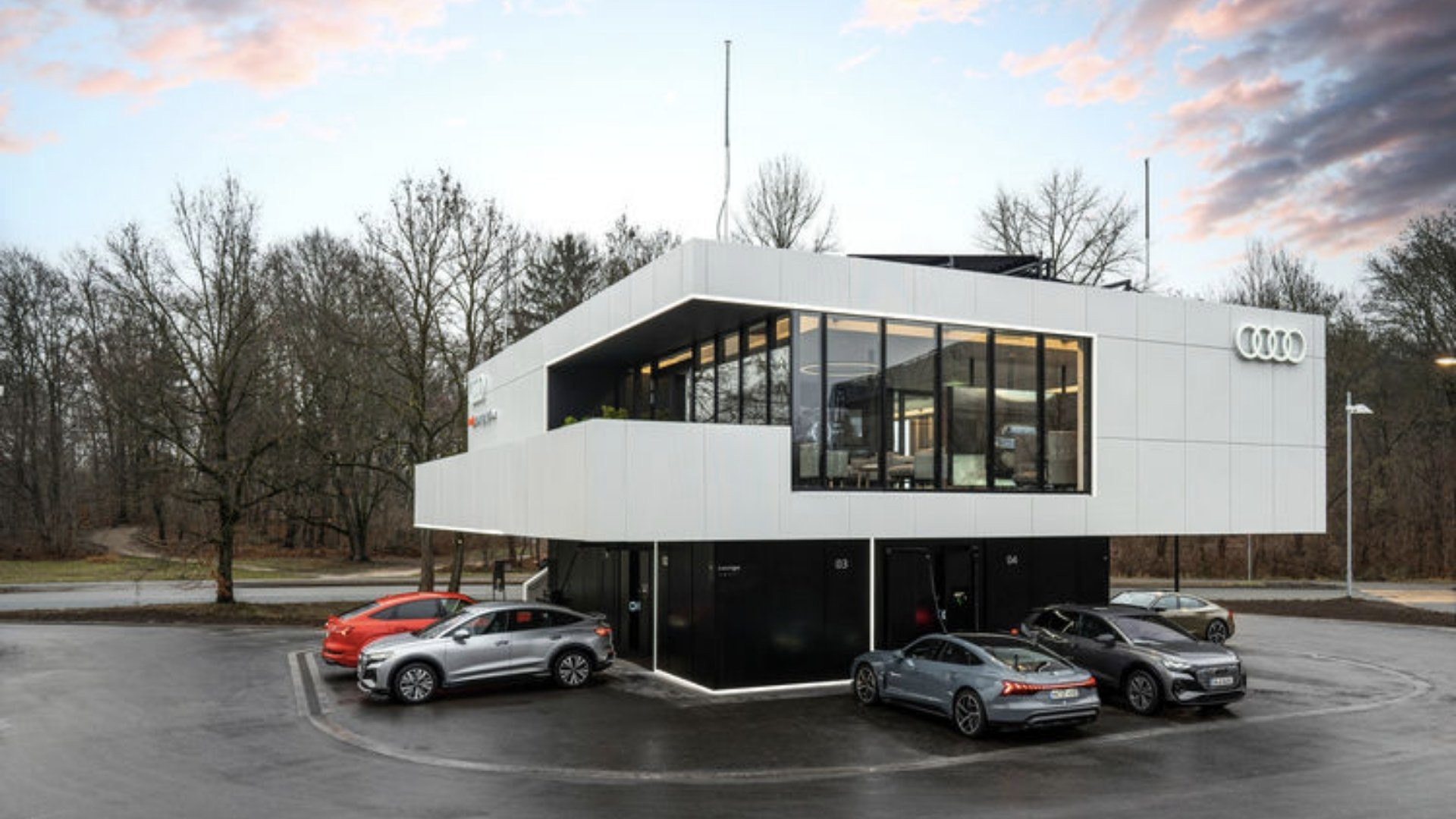 Brand Audi has launched its first 'Charging Hub' in the exhibition center located in Nuremberg. The move has been undertaken by the German luxury car manufacturer, keeping in mind the sudden increase in the number of electric car models. Generally speaking, the modern-day quick-charging station with reversible high power is meant for electric car owners who cannot charge their vehicles at home. However, the Audi charging hub is developed to cater to the increasing demands for charging in urban settings. In addition, attached to the hub and delivers a premium charging experience. To get more information on the Audi Charging hub, MWTV presents to you this article.   
Audi Hub, a self-sufficient and affordable charging center: 
It is the 'Cubes' that stimulates the foundation of the Audi Charging Club. They are available in flexible containers that can be assembled or disassembled in just a few days. Furthermore, two fast-charging stations for each unit can be combined with various constellations in the cubes. They comprise used and processed Lithium batteries that serve as energy storage systems. Furthermore, the charging systems located in Nuremberg only require about 200 Kw green power connected to a low voltage network for it to function. The solar panels on the roof of the Audi hub can provide 30 kW of green energy when needed. A total of up to 80 vehicles each day can be charged over here at this charging station.  
The simplicity and speed of charging services available at the Audi Hub: 
A session at any one of the six charging spots in the Audi Hub can easily be booked using the myAudi app. More importantly, charging is simple and uncomplicated and involves using a 'Plug and Charge'. Available at this center are two charging points (out of 6) that can charge an electric vehicle without an RFID or Radio Frequency Identification. The driver should have a PnC capable model belonging to the Audi e-tron series to use the charging system at this hub. For example, getting an Audi e-tron or e-tron GT charged to about 80% would take approximately 20 to 30 minutes.   
Audi Hub charging and its cost:
Those intending to use the high-power charging station available at the Audi Hub in Nuremberg, and have an e-tron Charging Service contract, need to pay only 31 cents per kilowatt-hour. This inexpensive cost makes this center the perfect alternative to charging a vehicle at home. According to Ralph Hollmig, Audi's charging hub project manager, charges the same price as one would pay while using a Wallbox at home. This center is also an open electric vehicle charging site for all cars brands.   
Attractive charging services offered at the Audi Hub: 
Audi is looking to benefit the customer by serving to add value to their lives by providing alternate services. Therefore, they plan to offer additional attractive features like providing a site to charge electric bike batteries, an electric scooter lending service, and test drives. Furthermore, a barrier-free lounge measuring roughly 200 square is also available to care for all clients' needs. At this center, Audi has also attached a 98-inch screen on which either various models can be configured, information about the charging facility obtained, and even the possibility of retrieving the current charge level of the cars. 
Hollmig, the manager, has the last word on this Audi hub center by clearly stating that, in the end, this charging service is built to ensure that all the customers shall share multiple benefits from it equally. 
0 Likes | 0 Comments | 147 Views
---