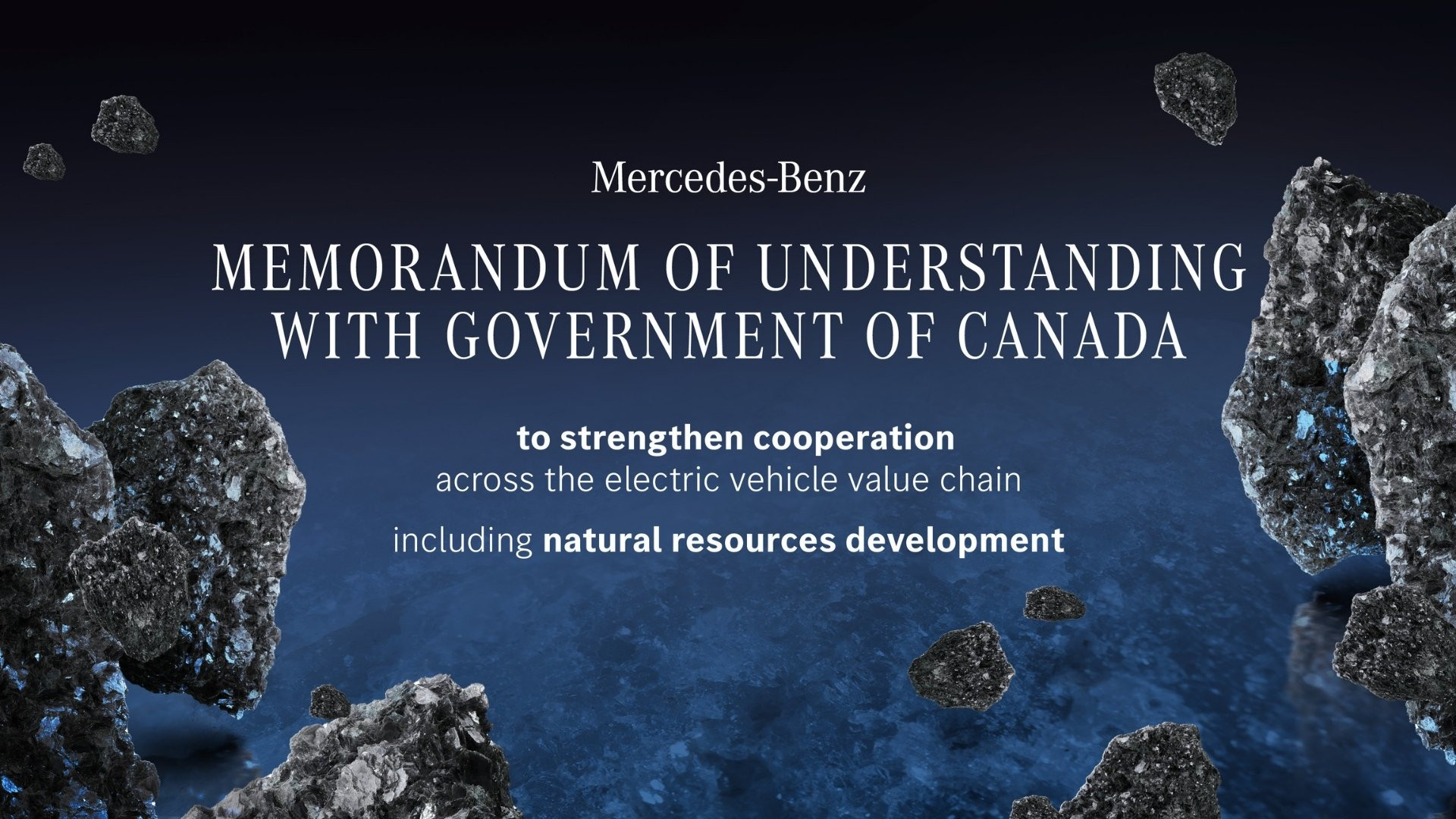 German luxury automobile brand Mercedes Benz is all set to take the promotion of the electric car vehicle industry up to the next level in Canada. For this purpose, they have signed an MoU (Memorandum of Understanding) with the government. This initiative aims to find ways to develop opportunities within the electric car industry in the country. Furthermore, one of the main goals behind the carmaker and the Canadian government joining hands is to protect the availability of sustainable raw materials. To help you learn more about this Mercedes Benz memorandum of understanding agreement, MWTV presents you with this article.
Mercedes-Benz's intention to increase electric car production and the MoU:
According to Markus Schaefer, Chief Technology Officer of Mercedes Benz, the brand is looking to innovate within the EV (Electric Vehicle) manufacturing sector. He adds that the idea is to get direct entry to more sustainable resources for producing high-quality EVs.
Finally, he adds that with the government of Canada showing interest by offering this Mercedes Benz memorandum of understanding agreement, he hopes that this partnership would be able to accelerate 'E-Mobility' into the future that too in top gear.
Canadian government's dream to collaborate with Mercedes-Benz and make the country world-class in automobile technology:
'Green supplier of Choice' is what Canada is becoming globally, per Francois Philippe Champagne, Minister of Innovation, Science and Industry. She further stated that the nation is looking to become an international leader in automobile innovation by becoming partners with Mercedes Benz. It is especially true, he says, to focus on developing a 'Clean and Green' driving ecosystem. More importantly, he explains that by committing to the Mercedes Benz memorandum of understanding agreement, Canada is looking to build a dependable 'Eco-Friendly' mobility supply chain to accomplish all the climate change goals.
Mercedes-Benz's 'Ambition 2039' project and its connection with the MoU: 
Mercedes Benz, on its part, is focusing on its 'Ambition 2039' project, which essentially involves plans to reduce carbon dioxide emissions from the atmosphere. It also seeks to make appropriate use of sustainable resources available within the entire 'E-Mobility' supply chain. Furthermore, through this scheme, this German luxury car brand is looking to collaborate with its suppliers innovatively. They intend to reduce the number of rare earth metals released during every electric drive. The reason is that future demand for 'Clean Green' driving will increase significantly.
The curious case of Canada, Mercedes-Benz, and their collaboration with Rock Tech Lithium:
Mercedes Benz and Canada have come together to find relationships that can help them enhance their 'Vision-based 'Mission' for the future even further. With this idea, Mercedes Benz is also strategically looking to partner with Rock Tech Lithium Inc. With this move, the luxe vehicle brand is looking to provide its vendors with lithium hydroxide. It is done mainly to keep up with the increasing demand for electric car batteries worldwide.
As for Rock Tech Lithium Inc, an alkali metal development company, the goal is to ensure that Mercedes Benz receives a minimum of 10,000 tonnes of Lithium Hydroxide annually. Therefore, in other words, this contribution of Rock Tech Lithium will, in turn, help in maintaining Mercedes Benz's financial health in the future.
Rock Tech Lithium Inc, Mercedes Benz, and the IRMA association:
Additionally, Rock Tech Lithium Inc has also provided Mercedes Benz an 'Offer they cannot Refuse,' which supplies them with Lithium from their mines. More importantly, the mines are developed according to the Initiative for Responsible Mining Assurances or IRMA standards. It means that Lithium is acquired with a great deal of responsibility. Furthermore, high-quality processed materials, the cornerstone of every Mercedes Benz' E-Vehicle', are also obtained.
However, the essential aspect of the partnership between Benz and Rock Tech Lithium is the emphasis on protection and respect for Human Rights and the environment. More importantly, that too while conducting business as usual to earn maximum profit.
Finally, what does Mercedes Benz intend to do by signing the Mercedes Benz memorandum of understanding agreement with the Canadian government? Besides, collaborating with Rock Tech Lithium Inc is to find like-minded partners to help push the automobile business globally. That too responsibly and profitably in a sustainable future that seems to head in the 'Clean and Green's direction.
0 Likes | 0 Comments | 341 Views
---