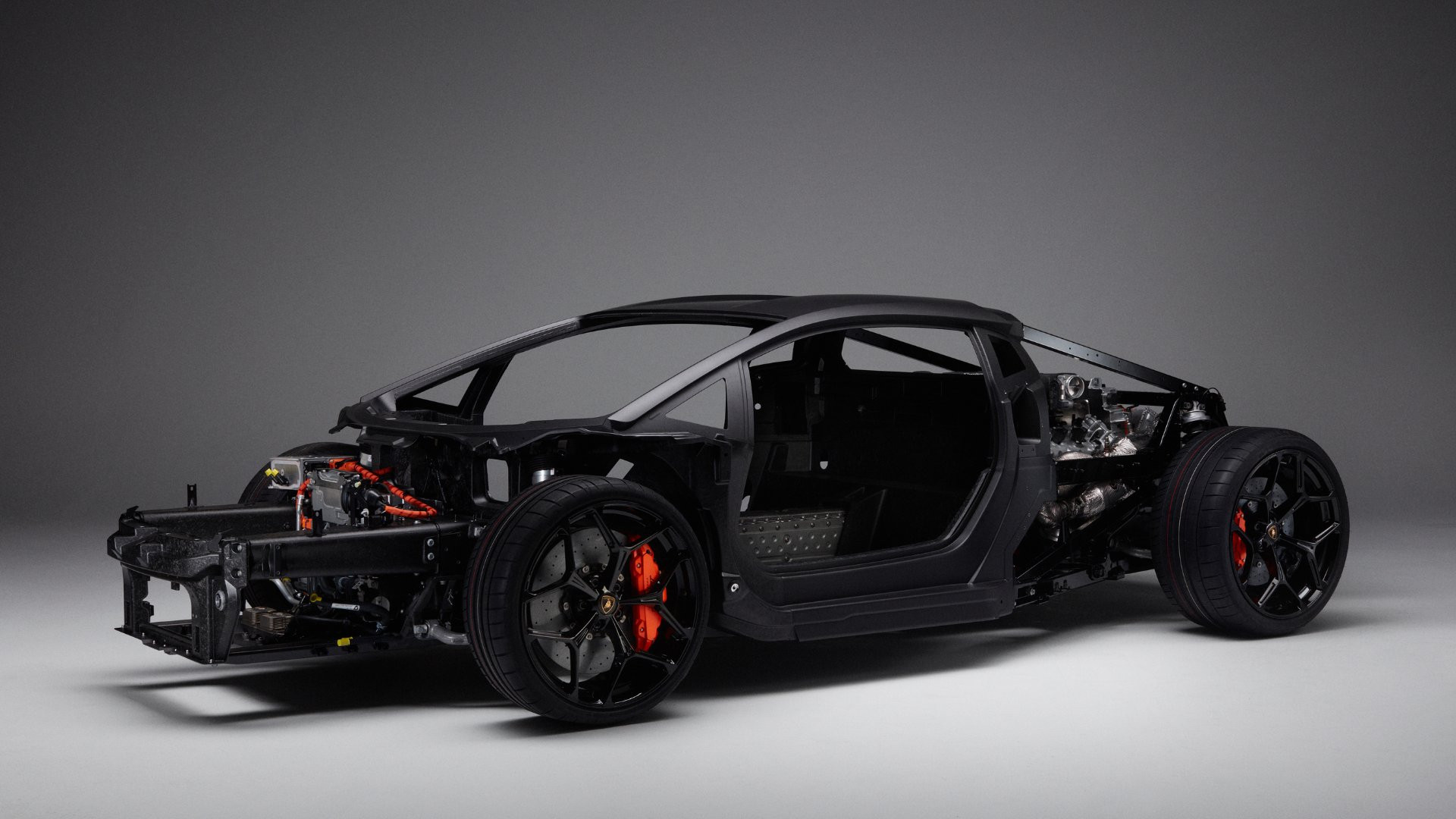 Italian luxury sports carmaker Lamborghini is ready to take automobile innovation to the next level. The Sant'Agata Bolognese brand intends to launch its first hybrid plug-in V12 High-Performance Electrified Vehicle (HPEV). In the form of their latest car model Lamborghini LB744, which takes its inspiration from new aeronautics-inspired chassis called the 'Monofuselage .' Also, this new edition presented by Lamborghini comprises monocoque, made completely using multi-technology carbon fiber. A unique type of technology that was patented and first used by Lamborghini in 2008. Read on to learn more about LB744 and its innovative design.
What is the 'Monofuselage' design concept used in the Lamborghini LB744?
The 'Monofuselage' design concept of the Lamborghini LB744 is based on the optimum Integration between chassis components. This optimization is made possible simply due to the introduction of extensive Forged Composites Technology and the development of the monolithic rocker ring. Also, using carbon fiber makes the overall design of the Lamborghini LB744 unique in the sports car category. The rocker ring has a connection with Forged composite elements like the tub, front firewall, and A-pillar together. These components optimize efficiency and increase sustainability during the manufacturing process. It reduces the cooling element's energy consumption and the waste material quantity.
How is the Lamborghini LB744 'Monofuselage' manufactured?
The rear chassis of the Lamborghini LB744 is made from aluminum alloys that possess high strength. Also, the rear dome consists of two critical hollow castings. There then occurs the integration between the rear suspension shock tower and powertrain suspension into a single component. It has a closed inertia profile that guarantees a significant weight reduction, wielding lines, and increased rigidity.
What is the connection of AIM to the Lamborghini LB744 'Monofuselage'?
The acronym AIM, i.e., Automation, Integration, and Modularity, essentially represents the use of carbon fiber in the Lamborghini LB744 'Monofuselage.' 'Automation' represents the introduction of automated and digitalized processes in manufacturing the Lamborghini LB744 'Monofuselage.' Meanwhile, Integration means combining several functions into a single component through the development of compression molding. Finally, Modularity reflects to conversion of applied technologies to something modular which is more flexible and efficient in responding to all product requirements and characteristics.
Why is the use of Lamborghini LB744's Monofuselage so unique?
The presence of monofuselage in the Lamborghini LB744 is taking sports car design forward, especially in driving dynamics, car weight, and torsional stiffness. The 100% carbon fiber front structure makes it the first sports car to do so.
With few weeks left for the Lamborghini LB744 model made from 100% carbon fiber, it certainly seems as if this sports car model is set out to prove to the world that the true strength of a vehicle lies in its 'Lightness.'
0 Likes | 0 Comments | 186 Views
---