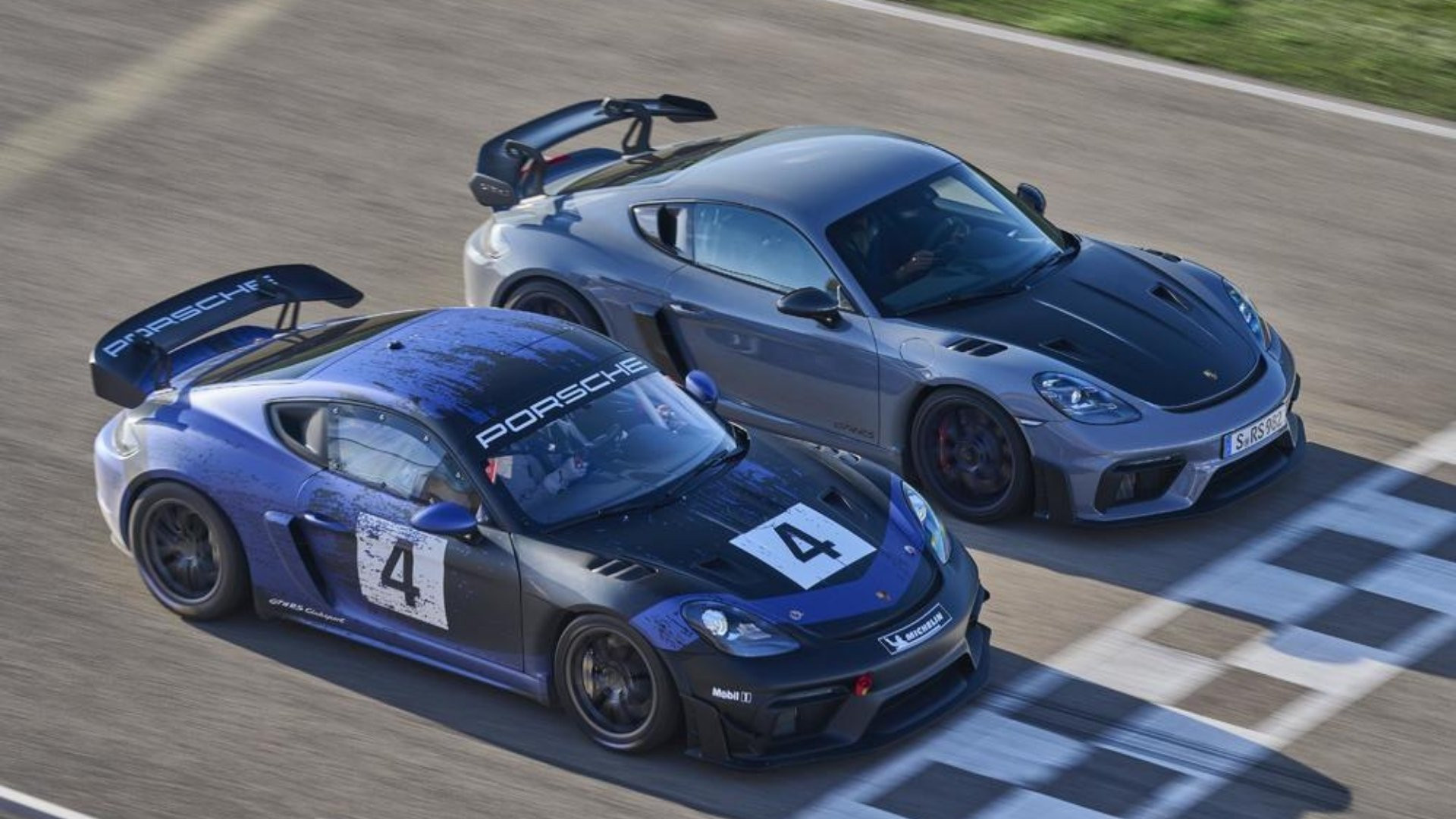 Porsche is set to drive into the future in three lanes by introducing vehicles with a powerful petrol engine, plug-in hybrids, and electric powertrains. But, more importantly, this great diversity is ready to be exhibited via several world premieres organized at the LA Auto Show. At this event, apart from the presence of the 718 Cayman GT4 RS model, the 718 Cayman GT4 RS Clubsport, Taycan GTS, and Panamera Platinum Edition also make an appearance. To help you know more about Porsche Cayman and Taycan edition, making a splash at the mega car show held in California, MWTV presents to you this article.  
Porsche GT4 Cayman model promotion of maximum driving pleasure: 
The term 'Driving Pleasure' best describes Porsche 718 Cayman GT4 belonging to the 718 families. Since it can produce a maximum power output of 500 PS (368 kW) and has a Kerb weight of 1,415 kg. The vehicle's lightweight construction, possession of an extremely flexible chassis set-up, and sophisticated aerodynamics make it a perfect car design that will deliver a drive filled with pleasure. The engine of this Cayman model is similar to the 911 GT3 Cup racing car is designed to give you unlimited joy while driving. It generates revolutions as high as 9,000 rpm. And compared to other Cayman models such as the GT4 and the GT4 RS comprises an extra 80 PS (59 kW) of power and increased maximum torque of 
450 Nm. A relatively low ration PDK is what produces the incredible acceleration of this mid-engine sports car. For example, the 718 Cayman GT4 RS accelerates from 0 to 100 km/h in just under 3.4 seconds at a top speed of 315 km/h. On the other hand, the 718 Cayman GT4 RS outpaced its sibling by 23 seconds, clocking a time of 7:04.511 minutes on a 20.6 km circuit.  
At the LA Auto Show, the Cayman GT4 RS Clubsport also makes its debut. This new racing automobile version is upgraded and has a 7-speed dual-clutch transmission (PDK) that uses seven and not six gears featuring short ratios.   
The first Porsche Taycan GTS, capable of producing a range of over 500 km:  
The newest Porsche Taycan GTS model is the first to hit the 500 km range. It is a sporty all-rounder vehicle that boosts power via the tool known as 'Launch Control. The car can sprint from 0 to 100 km/h in just under 3.7 seconds at the maximum speed of 250 km/h. In addition, the lateral dynamics of the Taycan GTS model are enhanced by the presence of the Porsche Active Suspension Management (PASM). 
Furthermore, the interior and exterior of this Taycan automobile are very distinctive from each other. The exterior consists of black shades, including the front apron, bases of exterior mirrors, and side window trim. The Black Race-Tex features add a lot of elegance and dynamism to the ambiance regarding the interior. In addition, this latest Porsche Taycan GTS model has a panoramic roof called 'Sunshine Control' as an optional feature.  
 This roof can be changed from clear to matt through a liquid crystal film that is electrically switchable. It is also divided into nine switchable segments, a first concept for the automobile industry. Options to choose between Clear or Matt settings and Semi or Bold are also available. 
Apart from Porsche's latest Taycan and Cayman vehicles, the LA Auto Show 2021 is set to exhibit the Panamera Platinum Edition, which combines elegance and sporty look with high-quality production values to be sold at a price that is very pocket friendly.    
0 Likes | 0 Comments | 284 Views
---