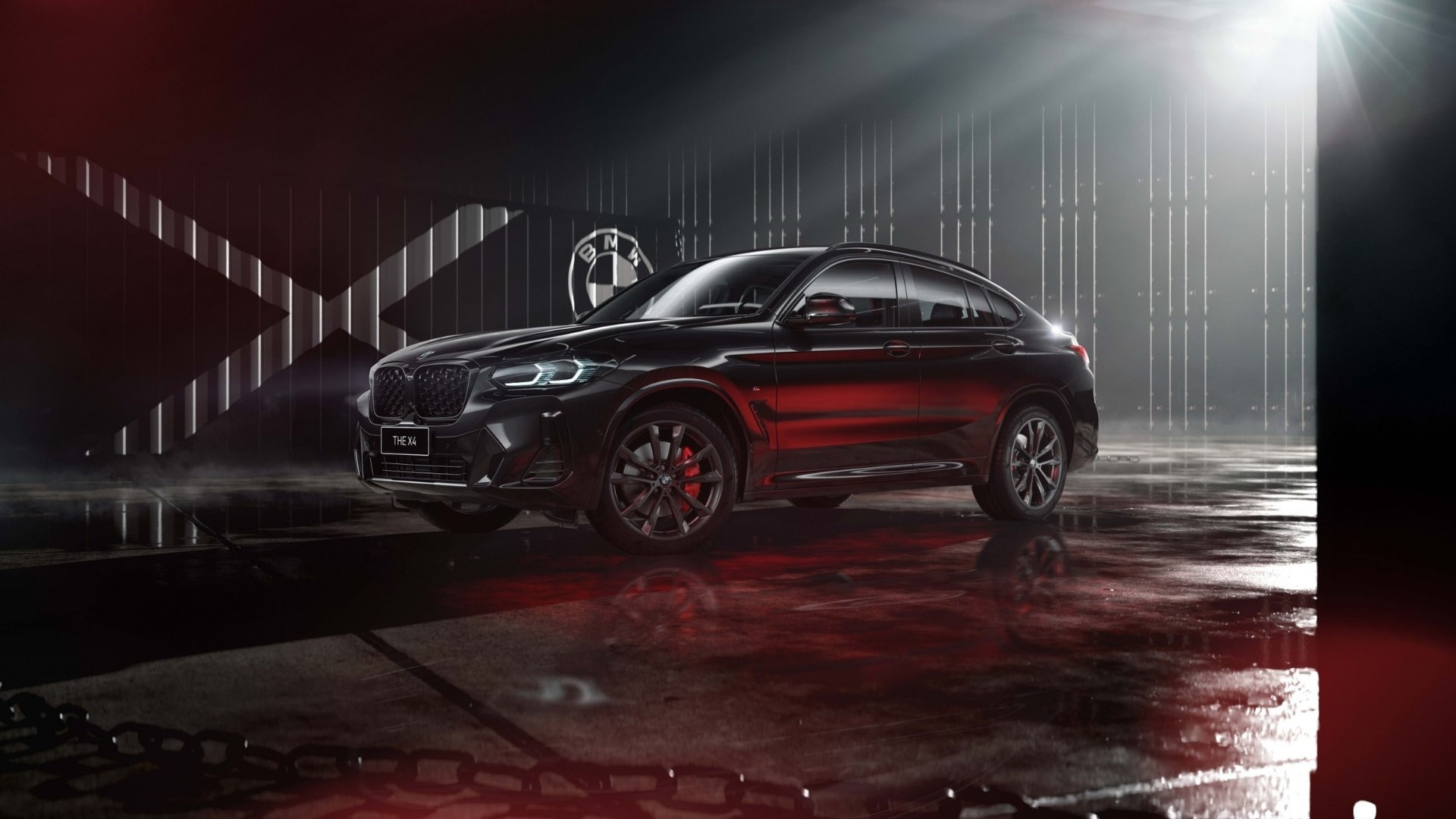 In March, it was in March that BMW launched its latest X4 model to exude 'Boldness Forever.' This German luxury car brand has essentially refurbished its Sports Activity Coupe (SAC) series, adding striking design elements, equipment, and attractive features. It is made locally in India at the BMW Group Plant located in Chennai and is now available across India for purchase. In addition, this BMW X4 model is also available in an exclusive and limited 'Black Shadow' edition. It is specifically designed to add dynamism and is manufactured to suit the needs of a motorsports enthusiast. To know more about this BMW X4 model, MWTV presents this article.
The head-turning exterior of the BMW X4 edition:
One of the unique features of the new BMW X4 model is its exterior design, which is crafted in a style that is sure to get heads turned. It essentially helps accentuate sportiness and an off-road look. The front end is very noticeable and comprises an attractive BMW Kidney Grille, thin headlights, and a redesigned apron. Furthermore, the BMW Mesh Kidney Grille consists of all-black mesh inserts and possesses a frame finished using the 'M High Gloss Shadow line.' This BMW X4 model also has its exterior adaptive LED headlights that are thin and flat, measuring about 10 mm. The vehicle also has an M Aerodynamic package that features the rear apron body colour, and side still covers. There are also vertical air intakes and bumper inserts in the dark shadow metallic that adds to the boldness of this car's overall look. On the other hand, the rear end looks very neat and comes along with a painted surface and bumper in the M Aerodynamic package.
The exceptionalism radiated by the interior of the new BMW X4 model:
The BMW X4 provides exceptional comfort and functionality in a sporty ambiance in its interior. The presence of elevated seat positions ensures first-class comfort for the passengers. It also has well-structured surfaces and impeccable cockpit design that caters to enhancing the driver's focus and driving experience. In addition, the driver and passenger seats have Sports Seats that have a lot of electric adjustment options and memory functions. Passengers can tilt backward by 9 degrees on the rear seats to enhance comfort.
Embellishing the interior of the BMW X4 and taking its premium look to the next level is the presence of M headliner anthracite. Furthermore, the M leather steering wheel, along with the M logo and the 'Walknappa' black with black stitching, adds to the exclusivity of the BMW X4 model. Furthermore, the electrically operated Panorama sunroof is responsible for creating a cool and relaxed lounge-like atmosphere. At the same time, the Ambient lighting comprises six selectable lights that enable the creation of an atmosphere for every mood.
The Innovation-driven engine of the new BMW X4 series:

'Innovative' is a word that best describes the engine of this latest BMW X4 model. It can produce power delivery and generate spontaneous responses even at low speeds. It is mainly thanks to the BMW Twin Turbo Technology that yields maximum power with maximum efficiency. The engine comprises a three-liter cylinder diesel engine that produces a maximum power output of 265 hp and maximum torque of 620 Nm at 2,000 to 2,500 pm. It also helps the car accelerate from 0 to 100 km/hr in just 5.8 seconds. In addition, this car also has a two-liter four-cylinder petrol engine which produces a maximum power output of 252 hp and maximum torque of 350 Nm at 1,450 to 4,800 pm. It helps generate an acceleration from 0 to 100 km/hr in just 6.6 seconds.
According to Mr. Vikram Pawah, President of BMW Group India, the BMW X4 model has, over the years, made popular in India the concept of Sports Activity Coupe. However, with the introduction of this new revised X4 model, BMW as a brand, according to Vikram, is set to take its profile in this automobile manufacturing segment up to the next level using a bold personality that is impossible to forget.
Earlier this year BMW launched the X3 in India. Check out the details.
This was followed by the diesel powered X3 last month. Read about it here.
| | |
| --- | --- |
| Category | BMW X4 4Ever Bold Edition |
| Engine | Three-liter cylinder diesel engine Two-liter four-cylinder petrol engine |
| Maximum Power Output | 265 hp and 252 hp |
| Maximum Torque | 620 Nm at 2,000 to 2,500 pm and 350 Nm at 1,450 to 4,800 pm. |
| Acceleration (0-100 kmph) | 6.6 seconds |
| Top Speed | 155 mph |
| Gearbox | 8-Speed Steptronic Automatic Transmission |
| Fuel Type | Petrol and Diesel |
| Fuel Tank Capacity | 65 to 68 L |
| Gross Weight | 1795 kg |
| Length | 4751 mm |
| Width | 1918 mm |
| Height | 1621 mm |
| Wheelbase | 2864 mm |
| Boot Space | 525 litres |
| Mileage | 16.55 kmpl |
| Price INR | Rs 70.5 lakh Petrol and Rs 72.5 lakh diesel |
0 Likes | 0 Comments | 229 Views
---