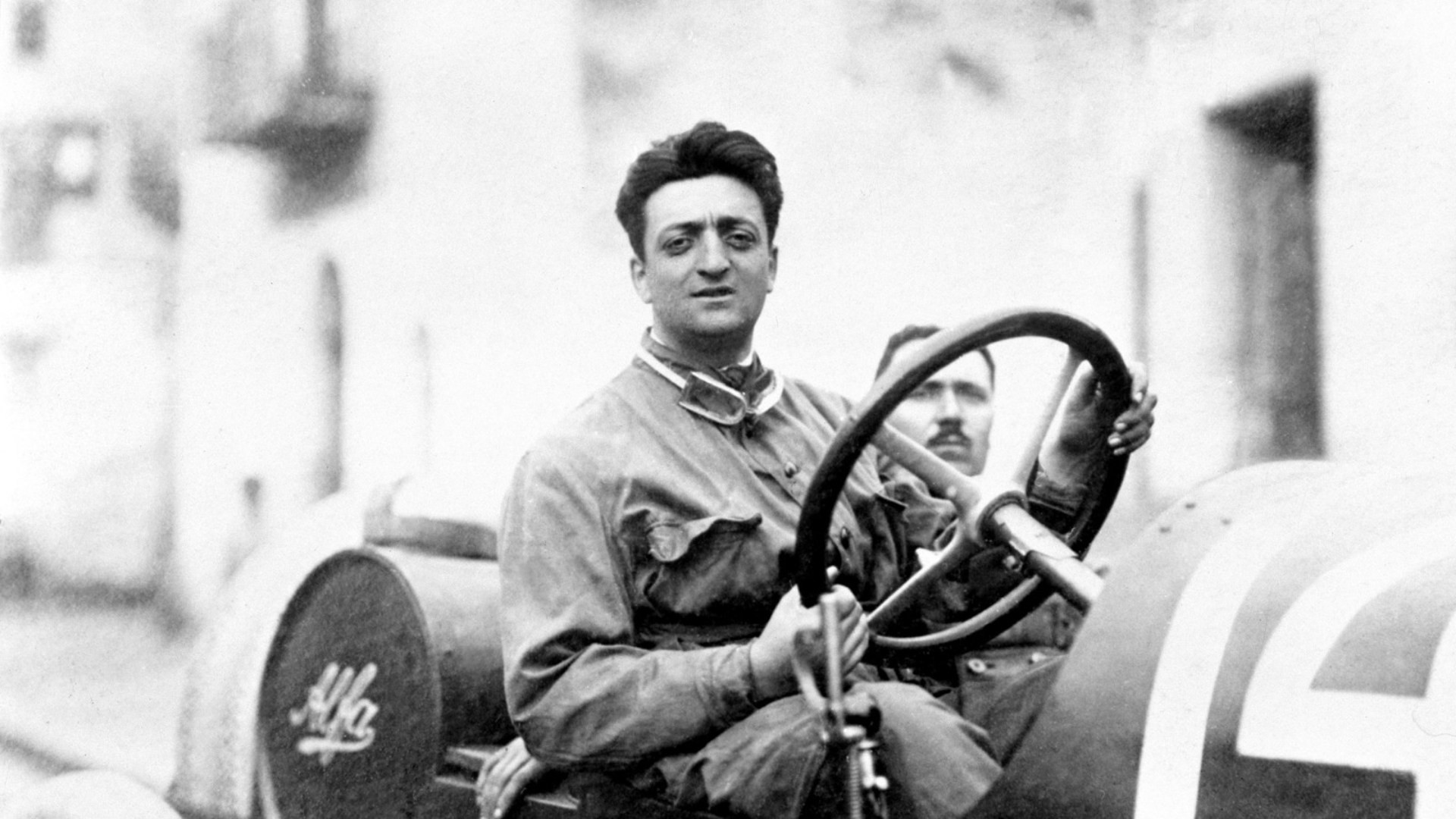 Enzo Anselmo Giuseppe Maria Ferrari was born on 20th February 1898, to Adalgisa and Alredo, who ran a small business which supplied the Italian national railway. Ferrari was bitten by the racing bug at the age of 10, when his father took him to watch a motor car race in Bologna.
Enzo also harvested a dream of becoming an opera singer, but the deaths of his father and brother from the flu in 1916 forced him to grow up quickly and he left school to become an instructor for Modena's fire service workshop. Ferrari joined the Italian Army in 1917 and fought for the 3rd Alpine Artillery Division, where he suffered his own serious battle with the flu before earning an honourable discharge. For his contributions to the Italian Army, Enzo Ferrari was bestowed with the title of Cavaliere di Gran Croce OMRI (Order of Merit of the Italian Republic).
After his family's turmoil, Enzo Ferrari began looking for a job in the car industry. He unsuccessfully volunteered at Fiat in Turin, eventually his auto racing career in 1919, when he started working there as a test driver for Costruzioni Meccaniche Nazionali. The company gave him a chance to compete with them and thus, he made his debut at 1919 Parma-Poggio di Berceto Hillclimb race. He finished fourth in his division. A year later, in 1920, he left CMN and joined Alfa Romeo as a driver. Ferrari won his first Grand Prix in 1923 in Ravenna on the Savio Circuit and the 1924 season was the best one for him with three wins, including Ravenna, Polesine and Coppa Acerbo in Pescara.
The death of Ugo Sivocci in 1923 and Antonio Ascari in 1925, shocked Enzo deeply, and so, he continued to race rather half-heartedly. During that time, he grew more into the organizational aspects of Grand Prix racing. In 1932, after his son Alfredo (Dino), Ferrari decided to retire and to focus on the management and development of the factory Alfa Romeo cars. Eventually, he built his own race team with two superstar drivers, Guiseppe Campari and Tazio Nuvolari. The team was named Scuderia Ferrari, founded by Enzo in 1929, which acted as a racing division for Alfa Romeo. All thanks to the excellent cars, the team was successful. After participating in 41 Grands Prix with a record of 11 wins, Ferrari retired from competitive driving.
During this time the Prancing Horse logo began to show on his team's cars. the emblem had been created and sported by Italian fighter plane pilot Francesco Baracca. During World War I, Baracca gave Ferrari a necklace with the prancing horse on it prior to take-off. Baracca was shot down and killed by an Austrian aeroplane in 1918. In memory of his death, Ferrari used the prancing horse to create the emblem that would become the world-famous Ferrari shield. Initially displayed on Alfa Romeos, the shield was first seen on a Ferrari in 1947.
Enzo Ferrari's final range was in August 1931, and soon after, in January 1932, his beloved son Dino was born. Even though he achieved great victory with one of his cars at the 1935 German GP, he had to shut down Scuderia in 1937 because Alfa Romeo reclaimed its racing division. Enzo left the company for good in September 1939, but due to legal reasons he could not use the Ferrari name with racing or cars for four years.
Soon after leaving Alfa Romeo, Ferrari opened Auto Avio Costruzioni in Modena and started to develop his own racing cars, but the outbreak of World War II led to government intervention. The company moved its factory nearby to Maranello, where it focused on building grinding machines. Ferrari resumed designing racing cars at the end of the war, and in March 1947 he took the first official Ferrari, the 125 S, out for a test-drive. That year, Ferrari scored its first win at the Rome GP and the next year he scored multiple victories at the Mille Miglia, the 24 Hours of Le Mans in 1949 and the British GP in 1951. In 1952 and 1953, Ferrari driver Alberto Ascari won the world racing championship. Around this time, the company also began producing cars for road use, and the rich and famous lined up for a chance to purchase one.
Ferrari had his ups, but he hit his low in the 1950s. His son Dino died from muscular dystrophy in 1956, a devastating loss that turned him into a recluse. Additionally, between 1955 and 1965, six of his drivers were killed, and he was charged and acquitted for manslaughter after one of his cars smashed into the crowd at the 1957 Mille Miglia and killed nine spectators. Ferrari also lost many of his top engineers and executives. Two years later, he was engaged in serious talks with Ford Motor Company, but eventually he ended up selling 50-percent stake to Fiat in 1969 due to financial issues.
Ferrari formally resigned as president of his company in 1977, but he retained control of the business. Shortly after earning an honorary degree in physics from the University of Modena, Ferrari died on August 14, 1988, in Maranello. Over the course of his lifetime, his cars scream victory, winning more than 4,000 races and 13 world championships. He was inducted into the International Motorsports Hall of Fame in 1994.
1 Likes | 0 Comments | 557 Views
---