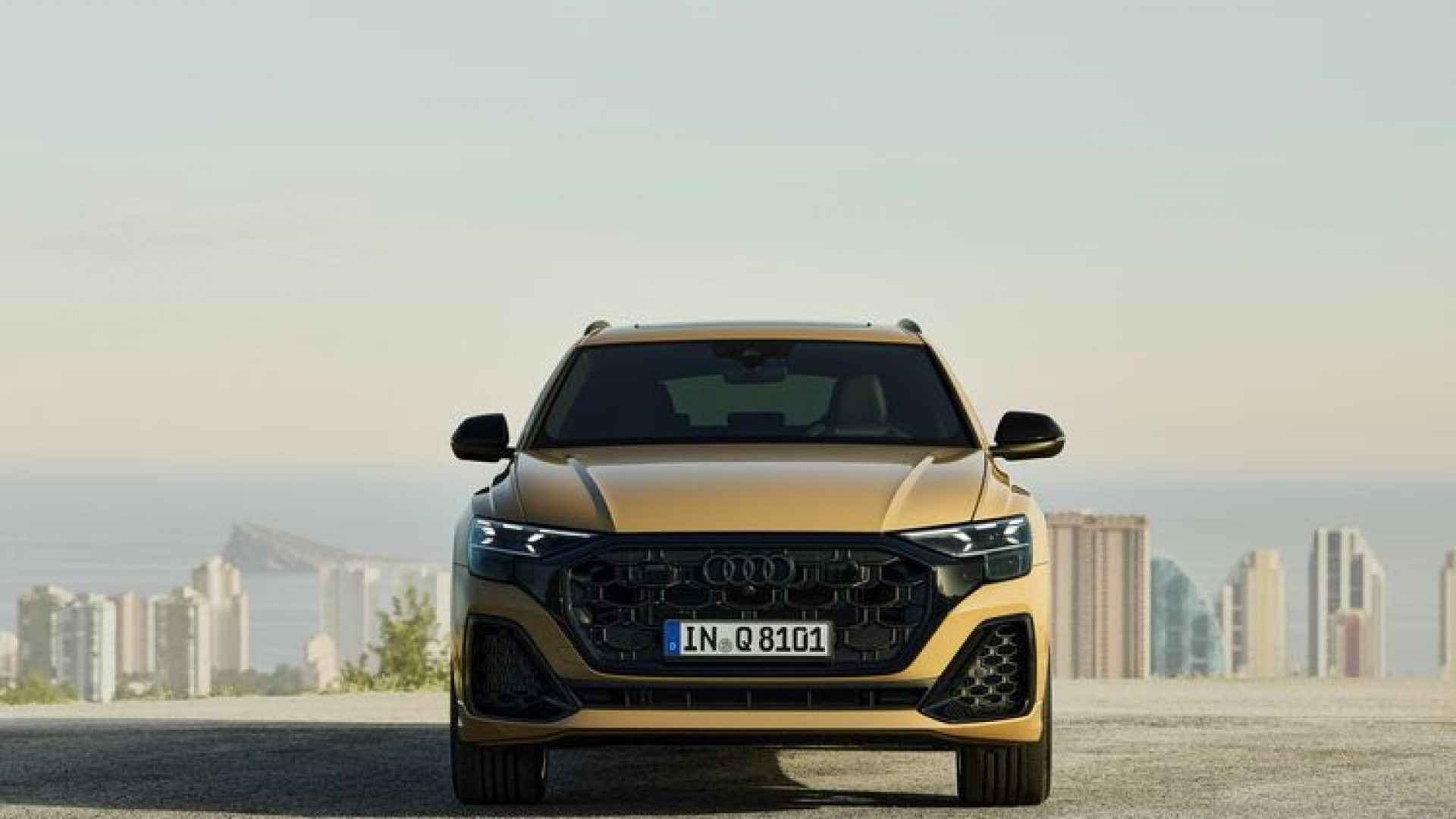 The redesigned Q8 is the brand's sportiest and most refined SUV coupé to date. The Q8's streamlined form, broad surfaces, and distinct volumes convey motion and vitality. Sporty, beautiful proportions are achieved thanks to the long wheelbase and small overhangs, which can be further highlighted by the use of bold external hues and accessories.
The Design:
The Matrix LED headlights previously only available on the top-tier Vorsprung model are now standard on all variants. Moreover, Audi's laser light technology, which aids in'significantly' expanding the complete beam range, is available as an upgrade. The Q8's daytime running lights have also been rethought to give it a more modern look.
The Q8's intelligent OLED taillights can detect whether another car is within two metres of it when it is parked, turning on all of the lights to make the car more visible(with a laser added to the high beams of the highest trims). It has the LEDs with four different patterns on the back.
The Q8 now comes in five different alloy wheel designs ranging in size from 21 to 23 inches, and it can be had in three new exterior colours: Sakhir Gold, Ascari Blue, and Chilli Red.
Audi has updated the Q8's Virtual Cockpit system to include a lane change warning and a distance warning when in close proximity to other road users, and users can now activate third-party apps like Spotify and Amazon Music through the car.
The new Q8's interior has also undergone extensive renovations, with a virtual cockpit that includes lane departure warning, distance warning, and traffic signal data.
With the click of a button, passengers can also access popular apps from third-party suppliers.
The Powertrain:
The 45 TDI quattro2 kicks things off with a three-liter diesel engine producing 170 kW (231 PS) and delivering 500 Nm of torque between 1,500 and 3,000 rpm. The Audi Q8 45 TDI2 can reach 60 miles per hour (100 kilometres per hour) in 7.1 seconds. Maximum velocity is 226 km/h (around 140 mph). The 50 TDI quattro3 is the next step up in power and torque from this engine, producing 210 kW (286 PS) and 600 Nm. The big SUV can go from 0 to 100 km/h (62 mph) in 6.1 seconds and on to 241 km/h (150 mph).
The Q8 55 TFSI4 from Audi is powered by a three-liter, six-cylinder Otto engine with direct fuel injection and 250 kW (340 PS) on tap. It has a wide operating range (from 1,370 to 4,500 rpm) and produces maximum torque of 500 Nm. The Audi Q8 can go from 0 to 100 km/h (62 mph) in 5.6 seconds thanks to its turbocharged petrol engine. It can go at a maximum speed of 250 km/h (155 mph), which is limited by an electronic governor.
The Audi Q8's V6 engines, eight-speed tiptronic gearbox, quattro permanent all-wheel drive and mild hybrid system work together to save up to 0.5 litres of fuel per 100 km under real-world driving conditions.
The Q8 has standard air suspension with adjustable damping, and the Vorpsrung and SQ8 have standard all-wheel-steering. The range-topping SQ8 model features a potent 4.0-liter turbocharged petrol engine, and the other available engines are a 3.0-liter six-cylinder diesel, a 3.0-liter petrol and a 2.0-liter turbocharged diesel.
The updated Audi Q8 will debut in the market in September 2023, with cutting-edge LED lighting and an expanded set of standard features.
0 Likes | 0 Comments | 160 Views
---