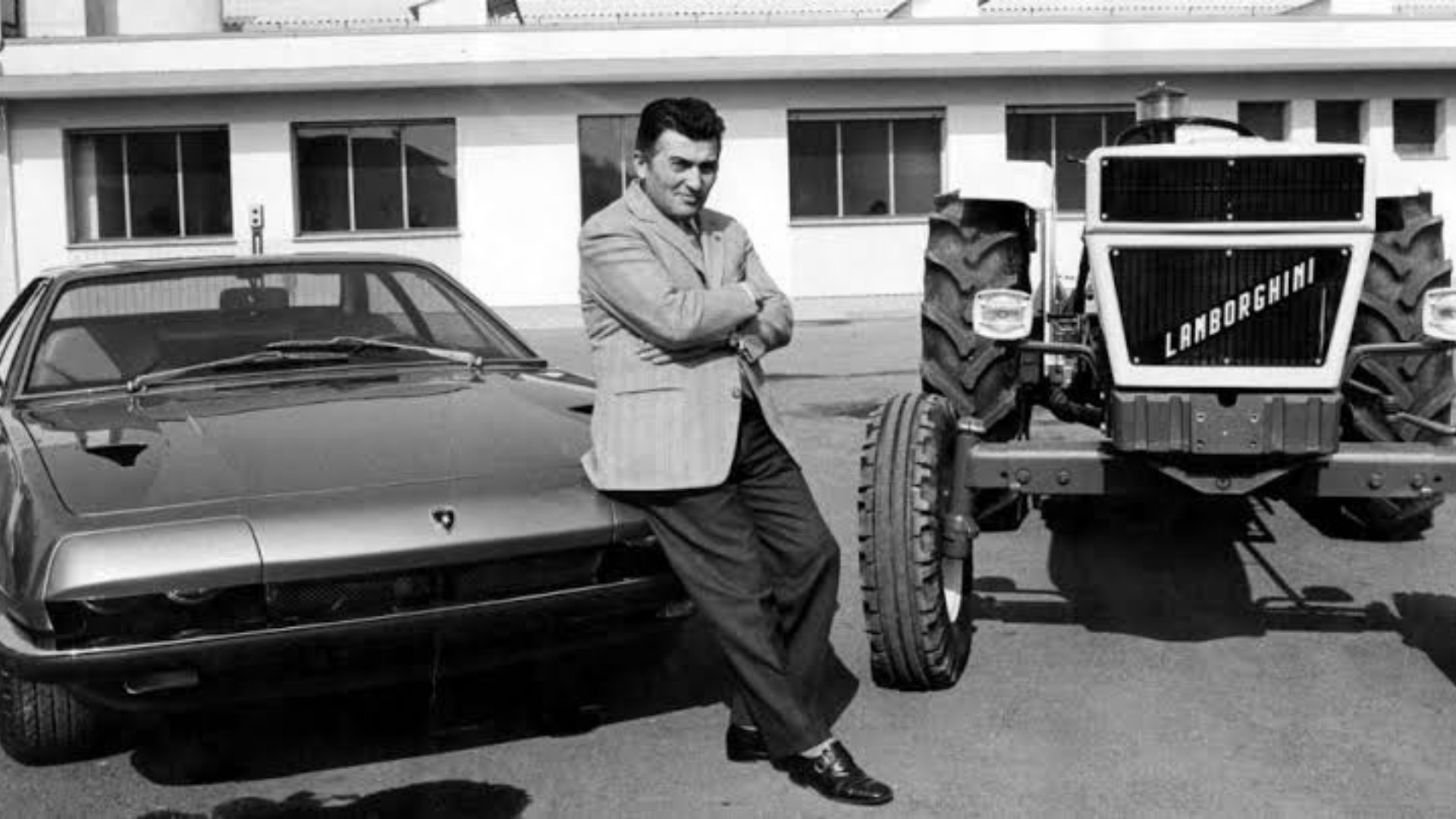 "I never planned on getting into the automobile-industry, but I knew a better car could be built." — Ferruccio Lamborghini
Ferruccio Elio Arturo Lamborghini was born on April 28 1916, a child to two viticulturists Antonio and Evelina Lamborghini in Renazzo di Cento, in the Province of Ferrara, in the Emilia-Romagna region of Nothern Italy. At a very early age, he decided he wanted to do something with mechanics, and began working on his father's tractor out of interest and later on joined a technical school in Bologna.
During the second World War he was enrolled into the Italian Air Force, working for the transport sections, but after 1944, unfortunately, he became a prisoner of war in the British military forces who put him to work in their motoring department, because of which Ferruccio got first-hand experience keeping cars on the road, even with limited part supplies.
After the second World War, Mr Lamborghini took his first venture into the world of business by setting up a company in Bologna called Lamborghini Trattori which manufactures tractors from altered abundant military vehicles and other machines. The Lamborghini tractors became known as the best in Italy during the post WWII economic boom and Ferruccio started organizing tractor-pulls in his hometown just to show the superiority of his machines.
Ferruccio would spend his spare time modifying an old Fiat Topolino he had purchased, the first of many he would own over the years so to speak. He made use of his mechanical knowledge and abilities and transformed the homely city car into a roaring 750cc open-top two-seater and entered himself in the 1948 Mille Miglia. Unfortunately, his participation ended after 1,100 km when he ran the car into the side of a restaurant in the town of Fiano, in Turin. By 1949, Lamborghini was able to start building tractors from scratch, without using any war machine leftovers. The tractor business made him a very wealthy man, and he started another factory building air-conditioning and central heating equipment called Lamborghini Bruciatori, which made him even more money and soon he became one of the wealthiest men in Italy.
Ferruccio Lamborghini's love for cars became legendary and soon he procured a variety of exotic cars such as, a Mercedes SL300, a Jaguar and a Ferrari among others. But, one fine day, his Ferrari started giving him troubles with the clutch and Ferruccio, being the hands-on person he was, went to visit Enzo Ferrari to complain about it. History has it, that Enzo refused to meet him, but that did not discourage Mr. Lamborghini. After a few inspections, he noticed the clutch fitted into the Ferrari was not any different from the ones Lamborghini fitted in their tractors, so he drove his Ferrari to the Cento factory and had a Borg & Beck clutch mounted right from the parts list of one of the tractor models. The problem was resolved and never returned after that. The exchange that followed between Enzo Ferrari and Ferruccio Lamborghini is often cited as a primary factor that motivated Lamborghini to become an auto manufacturer.
Automobili Lamborghini was officially established in 1963 in Sant'Agata Bolognese, Italy, and the same year debuted its first car at the Turin Motor show, the Lamborghini 350 GTV, a two-seater coupe with a V12 engine. The company's logo featured a bull, a reference to Ferruccio Lamborghini's zodiac sign, Taurus the bull. Various Lamborghini models had names related to bulls or bullfighting, including the Miura (named for Don Eduardo Miura, a breeder of fighting bulls), a mid-engine sports car that was released in mid-1960s and gained Lamborghini an international following among car enthusiasts and a reputation for prestige and cutting-edge design; the Islero, the Espada, and the Jarama, always able to stun the world at each release. Although the production and the employees were growing at a constant rate, Ferruccio Lamborghini always played a crucial and strategic role within the company. He actually started the now famous tradition of naming the cars after breeds of fighting bulls - gallant, strong and intimidating, just like his cars.
In the early 1970s, Lamborghini's tractor business experienced problems and he eventually sold his interest in his sports car business and retired to an estate in Umbria, where he pursued winemaking. Automobili Lamborghini changed hands several times and in the late 1990s was purchased by German automaker Volkswagen. The company continued to build high-performance cars, including the Murcielago (capable of going over 200 mph) and the Gallardo. Ferruccio Lamborghini died on February 20, 1993, at the age of 76.
His legacy continues on till date as all of Lamborghini's companies continue to run in one form or another by his children. Today the vast collection of Ferruccio Lamborghini's main industrial achievements, including a large number of tractors and some of the most stunning cars ever made in Sant'Agata are on display in the even larger Museo Ferruccio Lamborghini in Funo di Argelato.
1 Likes | 0 Comments | 700 Views
---